MCI Mathieu Contact Immobilier Nimes in the Gard-30.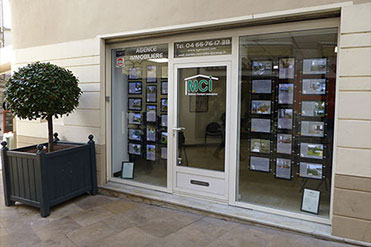 The MCI agency has the privilege to be located the heart of Nîmes in the Shield, among the Maison Carree and the Arena, from 1990 in one of the most attractive shopping streets of the city.
If you take pleasure to stroll through the streets of our Roman city surprising by its dynamism , you will not fail to stop before our attractive shop windows! Our team will be happy to welcome you to help you real estate .
We will offer a choice of apartments, houses, villas and shops for your needs both area and criteria comfort: garden, terrace, elevator, garage, parking, pool, etc.
You are buyer.? We are at your disposal to present our property: studio apartments, 2 rooms, 3 rooms, 4 rooms and more, lofts, houses, townhouses, villas, farmhouses, mazets or Land
You are selling? We are here to guide you: estimation, sales strategy and implementation
Our services extend the lease if you are renting as management if you are. owner and want to fully appreciate our skills.
To see all our deals contact us today!
Properties by area in Nîmes
Properties by features
Apartment for sale with garden